Chelsea manager Thomas Tuchel has been handed a one-match touchline ban by the English Football Association (FA) after his altercation with Tottenham Hotspur manager Antonio Conte when the two London teams met in the Premier League earlier this month. The London Derby encounter between hosts Chelsea and Spurs was the star match of the second weekend of the Premier League this season.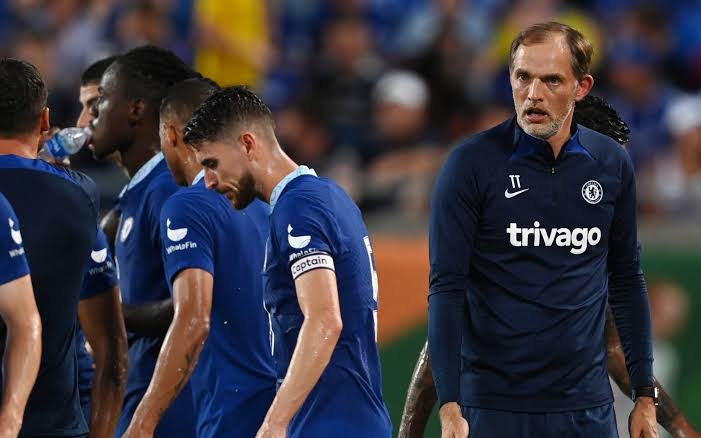 Tuchelhas been fined to the tune of £35,000 by the FA in addition to a one-match touchline ban. To this effect, the former Borussia Dortmund and Paris Saint Germain (PSG) boss won't be on the touchline when Chelsea play hosts to Leicester City this weekend. The Blues welcome the Foxes to West London on Saturday looking to bounce back from the disappointing at the hands of Leeds United last weekend. Brendan Aaronson, Rodrigo Moreno and Jack Harrison scored for Leeds United in a 3-0 home win over Chelsea.
Italian tactician Conte was involved in a scuffle with Tuchel as reported earlier. He was not given a touchline ban like what's obtainable with Tuchel, but he was also fined. The former Juventus and Chelsea boss was fined to the tune of £15,000.
Earlier this week, the FA commission explained the decision to give Tuchel a touchline ban, while Conte was spared. It was revealed that the Chelsea manager was punished for his refusal to let go of Conte's hand when the two managers shook hands at the end of the London Derby Premier League clash. Tuchel refused to let go of the hand as he was curious that Conte didn't look him in the eyes while shaking him.The two managers had earlier clashed during the gamewhen Tottenham Hotspur scored their first equaliser. Spurs came from behind two times to secure a 2-2 draw in West London.